The engineered roller brushes are
key to the patented SCS process.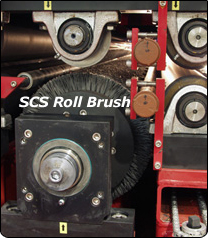 SCS
is typically applied to hot band as it ships from the mill, but it also 'resuscitates' coils stored outside that accumulate rust and dirt, turning them into prime material.
Even steel treadplate can be SCS brushed to remove rust and obtain a remarkably clean surface.
SCS Material Sizes

Coils
Width 24" – 76"
Thickness 0.030" – 0.250"
Max. Coil 60,000 lbs.
80" OD

Sheets
Width 24" – 74"
Thickness 0.043" – 0.500"
Length inquire with

Carbon steel sheets that will be SCS processed first undergo stretcher-leveling, temper passing, tension leveling or aggressive roller leveling prior to blanking, so their surface is flat for brushing.

For coils, the SCS line combines in-line roller leveling with extreme tension generated by the recoiler. This gets the brushed steel very flat, reducing edge wave, bow and even some coil breaks, to achieve permanent shape correction.