Readers of this newsletter know that SCS production lines are designed, built and serviced by Red Bud Industries (RBI) of Red Bud, Illinois. What many do not know is how RBI has come to benefit from use of SCS sheets in construction of its machines.

Since its founding in 1959, RBI has been an innovator in coil processing systems. Today, RBI ships Cut-To-Length, Blanking and Multi-Blanking Lines, Slitting Lines, Stretcher-Leveling Lines and SCS Sheet and Coil Lines. RBI ships 15 to 20 complete systems a year on average – 70% domestic and 30% export.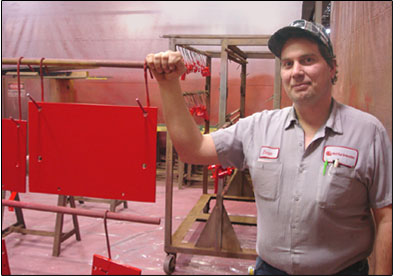 Self-sufficiency is a key aspect of the company's manufacturing philosophy. RBI employs a range of modern machining and fabricating cells to produce parts for its machines. It paints, assembles and tests all systems in-house before shipping to the customer for reassembly and commissioning.





"If we build our parts and components, rather than buy them, we can support our customers with replacement parts made to original specs," explains RBI President Kalin Liefer. "That also lets us offer five year warranties and ship 98% of our replacement parts within 24 hours of request."

RBI Plant Manager Dean Schoenbeck shows off a freshly painted SCS part.
"We pride ourselves on the quality of our equipment and the workmanship
that goes into it -- all the way to the paint finish," explains Dean. "SCS gives
us a better finish at a lower cost. I'm looking at other areas to use SCS."

It also leads to the need to inventory
several steel products: cold and hot
rolled bar, I-beam, rectangular and
round tube, castings, hot rolled plate
and hot rolled sheet.

It wasn't long after the first SCS Sheet Line built by RBI was commissioned, that RBI replaced some of its hot rolled sheet with stretcher-leveled SCS sheets processed on that line. Dean Schoenbeck, RBI's plant manager explained, "It made perfect sense to switch to SCS, since we built the SCS process equipment and we stand firmly behind that equipment. But we'd use SCS even if we had nothing to do with the equipment because it solves so many problems for us."


The Today, RBI drills, punches, forms, welds and paints SCS and no longer buys any hot-rolled sheet. "Since the SCS is so clean and doesn't rust, these fabrication areas in our shop are now easy to keep clean -- even employees' uniforms stay cleaner, which is something they appreciate," stated Schoenbeck. "And welding SCS is more productive since we no longer have to wipe off excess dirt and grime in the area we are preparing to weld."

The biggest benefit of the switch to SCS came in painting. Dean Schoenbeck commented. "We never used P&O sheets because we didn't want the 5 stage paint prep needed to completely remove the oil. But hot roll black takes a lot of labor to get clean enough to paint well, especially if some rust develops. With SCS, the paint prep time is down dramatically, and the surface is so smooth that we get a superb finish every time." Note that RBI uses liquid spray painting due to the 'small lot' nature of their painting work.


There are other areas where Schoenbeck is eager to try using SCS. "We weld and paint a lot of tubing -- both rectangular and round," explained Schoenbeck. "There's so much structural tubing in our equipment and in the operator platforms and railings -- you just can't believe it. When we can get structural tubing made from SCS, the painting process benefits will spread to a larger portion of our work." Schoenbeck is watching the early SCS tube production trials with interest, hoping he soon gets the chance to once again 'make the switch' to SCS.