By one measure, Bull Run Metal (BRM) of Clinton, Tennessee is half the company it was three years ago. That's a good thing: "It takes half the people to put out finished product than it did in 2003," explained Robert Love, BRM's President and the catalyst behind a relentless pursuit of productivity gain. "That hasn't brought cuts in headcount, it's brought growth."





Founded 25 years ago as a fab shop serving regional manufacturers, BRM built expertise in designing and fabricating containers to store and transport hazardous and radioactive waste. In 1999, it made a strategic shift to focus almost entirely on the waste container business. Making containers for Department of Energy (DOE) contractors now makes up nearly all of BRM's business.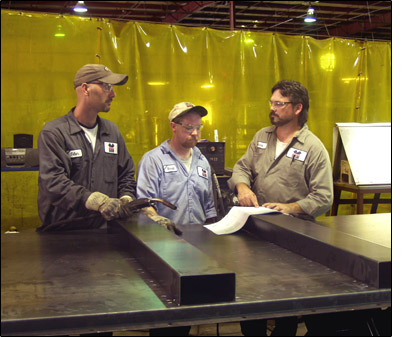 BRM containers of 8 to 1620 ft3 safely store contaminated materials, from tools to filter media to soil. Most are transported to DOE's Nevada Test Site and safely buried. It's not an easy business to qualify for; BRM maintains NQA-1 certification, a crucial nuclear industry quality benchmark. But when Love joined BRM as operations manager 2-1/2 years ago, quality was not the area needing improvement. Process efficiency was his target.

Love's focus has shifted from material and activity flow to technology that lowers costs - preferably technology that doesn't call for capital investment. "We were buying HRPO from an area service center and they told me about a steel process called SCS. Then one day, their sales rep visited with samples and a folder full of profiles of
BRM operations personnel (left-to-right) Jerry Siler, David Bales and
Mark LaCombe discuss welding requirements for this hazardous waste
container lid which was fabricated from stretcher-leveled SCS.
applications showing where SCS
replaced P&O and how well it was
working out. I ordered some SCS for
trials, and the sheets that came in
almost looked like stainless, they
were so clean."

At first, BRM fabricators were leery of SCS. "They thought press brakes and shears needed that oil. They didn't want a dry material," Love recalled, "but after using SCS, they see oil isn't needed and now they don't like to see us bring in any P&O at all."

The big SCS benefits have been in a welding and painting. Love observed, "With the clean SCS surface, our weld beads are more uniform with less spatter. In our big containers, we weld tubes to the sheets to add strength, and getting a good weld was tricky with P&O, but not with SCS."


As for paint prep Love points out: "We take our P&O boxes outside the building, use a degreaser and rinse to remove the oil, grime and dust (dust created from grinding the welds smooth). It only takes 20 to 30 minutes, but the added handling makes it a bottleneck. With SCS, we do a simple five minute wipedown to remove the grinding dust, then take them right to the paint booth. For a certain container made from 3/16" hot-rolled black, we spent one and a half hours grinding just to get it acceptable for welding and painting. With SCS that goes away entirely.


Love summarized: "We improve by challenging conventional wisdom. We eschew the words 'but that's the way we've always done it.' We encourage employees to try new ideas, and there's no negative repercussions if they don't work out. That's how we foster innovation and improvement. SCS fits right in with that approach. The conventional wisdom might be 'don't order SCS it's more expensive than what we could buy here or there.' But when I look at what it saves us in process time and throughput, SCS is absolutely a bargain."